E-AT ApS
European AirVent Technology, or E-AT, offers a cost-effective method, for cleaning and coating ventilation ducts. Work can take place at a shipyard or while the Wessel is in service.
We offer a high-quality service, that increases the longevity of the ducts and improves energy efficiency. Our fire-resistant coatings form a protective layer between the substrate and the environment.
Our solution has been tested by The Danish Institute of Fire and Security Technology (DBI) and is developed in cooperation with Technological Institute (TI), as part of a EUPD project focusing on energy efficient solutions for residential buildings. We are currently working with DNV-GL, to get the product certified for the maritime market.
We focus on three core growth areas: Offshore and maritime, production facilities and residential/office buildings
Core competencies
Coating and sealants for ventilation
Cleaning robots. Specialized for use in ventilation
Training and certification of partners in using our method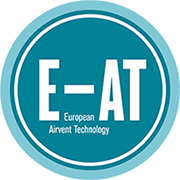 E-AT ApS
Solvangsvej 16, 4681 Herfølge
Sales Manager: Henning Jacobsen
Phone: +45 53 89 24 44
Mail: info@e-at.dk
Web: www.e-at.dk