Fornæs
FORNÆS Ship Recycling
FORNÆS Ship Recycling was founded in 1993 and has, since then, scrapped well over 1500 ships.
Major part of them has been fishing vessels of various sizes, but there were also freighters, supply vessels and ferries.
Most of our vessels comes from Scandinavia and UK.
All that can be re-used from the ship is registered on our stock list and then sold again.
About 70% of our used ship equipment are sold to export.
Our stock of used marine equipment is more than 80.000 m² outdoor stock and 16.000 m² in indoor stock.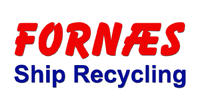 FORNÆS ApS
Rolshøjvej 12-16, DK-8500 Grenaa
CEO Keld Kokholm
Phone: +45 86 32 63 93
Mail: fornaes@fornaes.dk
Web: www.fornaes.dk