Hirtshals Yard
Hirtshals Yard handles a wide range of tasks in ship repair and traditional shipyard operations. We concentrate on yard work, and therefore we can focus our full attention on each customer's wants and needs.
In our covered floating dock, we can repair and paint ships under optimum conditions, regardless of weather. We realize the impor­tance of punctuality and hence how vital it is to solve the tasks on time.
Hirtshals Yard continues the shipyard activities that Wärtsilä, for strategic reasons, decided to close down in Hirtshals at the begin­ning of 2012. With a group of local investors, CEO Rasmus Brohus and project manager Jesper Reinholt ensure about 20 jobs at the shipyard and an equal number of subcontractors.
Rasmus Brohus and Jesper Reinholt are both engineers and have several years of experience as supervisors at shipyards in Denmark and abroad.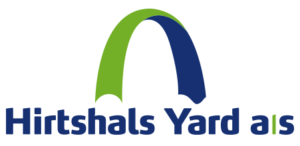 Hirtshals Yard A/S
Jens Munksvej, 9850 Hirtshals
CEO Anders Hecht-Pedersen
Phone: +45 96 56 99 99
E-mail: info@hirtshalsyard.dk
Web: www.hirtshalsyard.dk