Scan-Group
Scan-Shipping (later Scan Group), was founded in Copenhagen, Denmark on April 1st 1969 by Mr. A. Simonsen at the age of 24. It remained a one man owned company until it became a limited company in 1977. Mr. A. Simonsen is still the C.E.O. and Sole Proprietor of Scan Group including the Shipco Transport group of companies, the Scan-Shipping group of companies, the Strait Air Transport group of companies etc.
Strait Air Transport specializes in "Marine Solutions". Strait Air has developed their own "ship spares" team in Denmark, Sweden, Norway, Finland and Estonia.
With our "Marine Solutions" we combine international freight forwarding, chartering, special handling to deliver the goods to the right location, the right number and of course at the agreed time.
Hotel & Golf are today part of the business.
The Scan Group Headquarter for all subsidiaries and group activities remains in Copenhagen with Mr. A. Simonsen at the helm.
April 1st 2019 marks Scan Group's 50th anniversary. Today Scan Group is present in over 40 countries worldwide and employs more than 2.800 staff in 156 offices.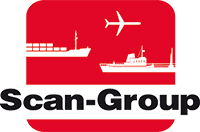 Scan-Group A/S
Snorresgade 18-20, 2300 København S
CEO Morten Jæpelt
Contact regarding marine solutions:
Morten Berger at mberger@scan-shipping.com
Gunnar Nissen at gnissen@straitair.com
Phone: +45 32 66 81 00
E-mail: cph@scan-group.dk
Web: scan-group.com