Weesgaard Mechanical Support
Weesgaard Mechanical Support is a small family-owned company, who is highly specialized in repair of reduction gear, major overhaul on diesel engines and maintenance on all other mechanical marine equipment.
The aim is, to have a small but thriving company, where the costumer is our focus, and where professionalism, quality and flexibility is key values. Weesgaard Mechanical Support is a company who delivers "quality on time".
Furthermore, we have a well-appointed workshop which is 800m2. The workshop is positioned near the Port of Hirtshals, where we can overhaul parts and equipment in different sizes.
Our employees are flexible, safety minded and have a wide knowledge within repair and service on all sizes of vessel.
They have many years of experience working in the maritime sector and will approach your challenges with a positive mind.
We meet the customer where our service is needed, with a 24/7-hours and 365 days a year service.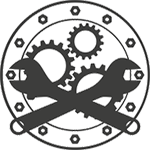 Weesgaard Mechanical Support ApS
Safirvej 6, 9850 Hirtshals
CEO Peter Weesgaard
Phone: +45 69155748
Mail: info@weesgaardms.dk
Web: www.weesgaardms.com