Closer collaboration between the Japanese and the Danish maritime industry to the benefit of both countries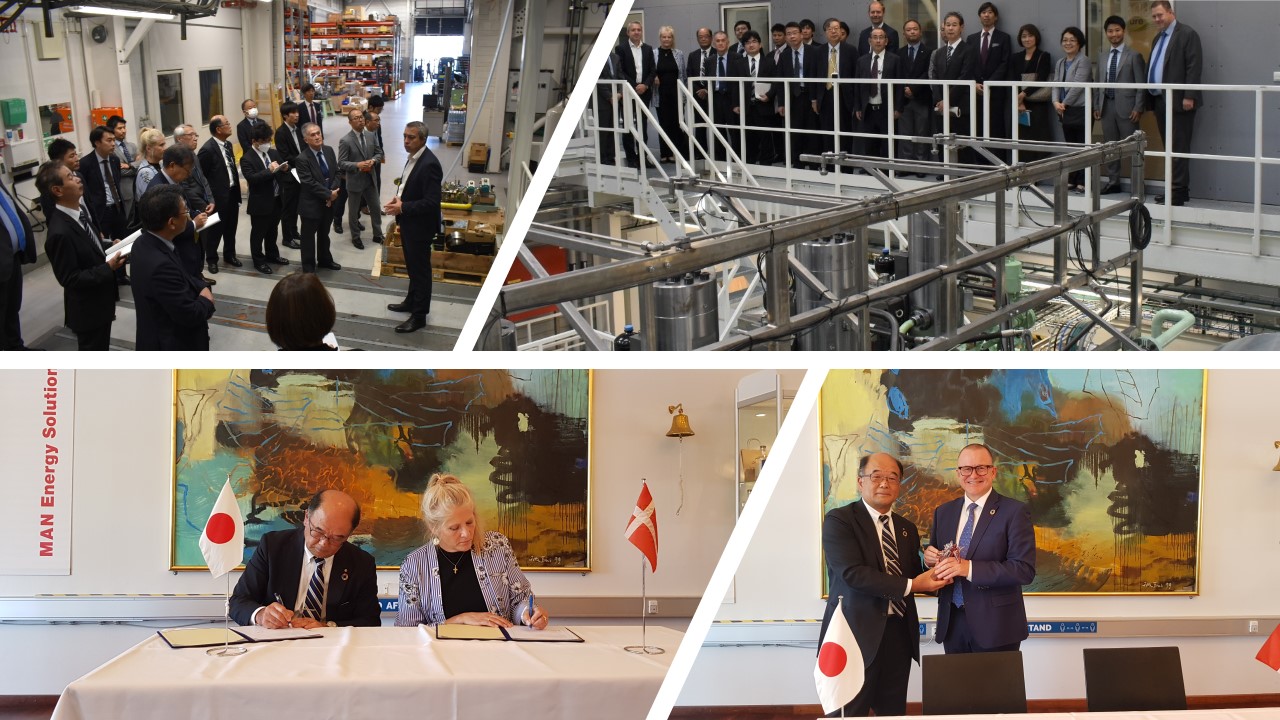 Today Japan Ship Machinery and Equipment Association and Danish Maritime is signing a Memorandum of Understanding regarding a closer cooperation between both the two industry associations and possibly the maritime industries of both countries.
Japan and Denmark have very good trade relations and their maritime industry associations are now aiming at expanding this mutually beneficial relationship.
The purpose of the Memorandum of Understanding is therefor to express and record the intent to strengthen and further develop bilateral cooperation in maritime industries by addressing joint challenges for the mutual benefit of the Japanese and Danish maritime industries. This includes the acceleration of decarbonization, as well as the development of digitalization and autonomous shipping.
The ceremony took place at the headquarters of MAN Energy Solutions in Copenhagen – one of the largest Danish maritime equipment and engine companies with a leading market position.
From Japan Ship Machinery and Equipment Association Chairman Mr. Shigeki Kinoshita signed the Memorandum of Understanding alongside Mrs. Jenny Braat, CEO at Danish Maritime.
Both organizations look forward to a closer collaboration. Jenny Braat says:
"I see this as an important step for both our maritime industries. Though geographically far apart we are in the same process of moving the global shipping industry in a more climate friendly direction and by joining forces in different ways we can help each other. We have a common responsibility but have different strengths, so I very much look forward to a closer relationship with my colleagues in Japan – representing our company members in both counties."
Shigeki Kinoshita says:
"We are very pleased and proud to conclude this MoU. This will be an opportunity for the maritime industries of both countries to further enhance their technological capabilities through closer exchanges of views and information, including the areas of decarbonization and digitalization – to provide excellent marine products that support ships around the world and contribute to the development of the global maritime industry and the global economy."
As part of the visit at MAN ES the Japanese delegation were also given a guided tour in the research centre.
Japan Ship Machinery and Equipment Association is spending two days in Denmark to meet different parts of the maritime industry, including Maersk McKinney Moller Center for Zero Carbon Shipping, ferry company DFDS, shipping company A.P. Møller – Mærsk A/S and the non-profit innovation and project collaboration ShippingLab. The visit to Denmark is co-organised by Invest in Denmark.
———
Japan Ship Machinery and Equipment Association represents 244 corporate members from throughout the maritime industry of Japan as well as 75 organisations as supporting members. JSMEA headquarter is based in Tokyo.
Danish Maritime represents approx. 150 Danish companies which design and build ships, provide equipment and service for ships and finally demolish ships when their lifetime on the seas is over.
Læs mere om