Danish Maritime enters partnership with the international humanitarian organisation Mercy Ships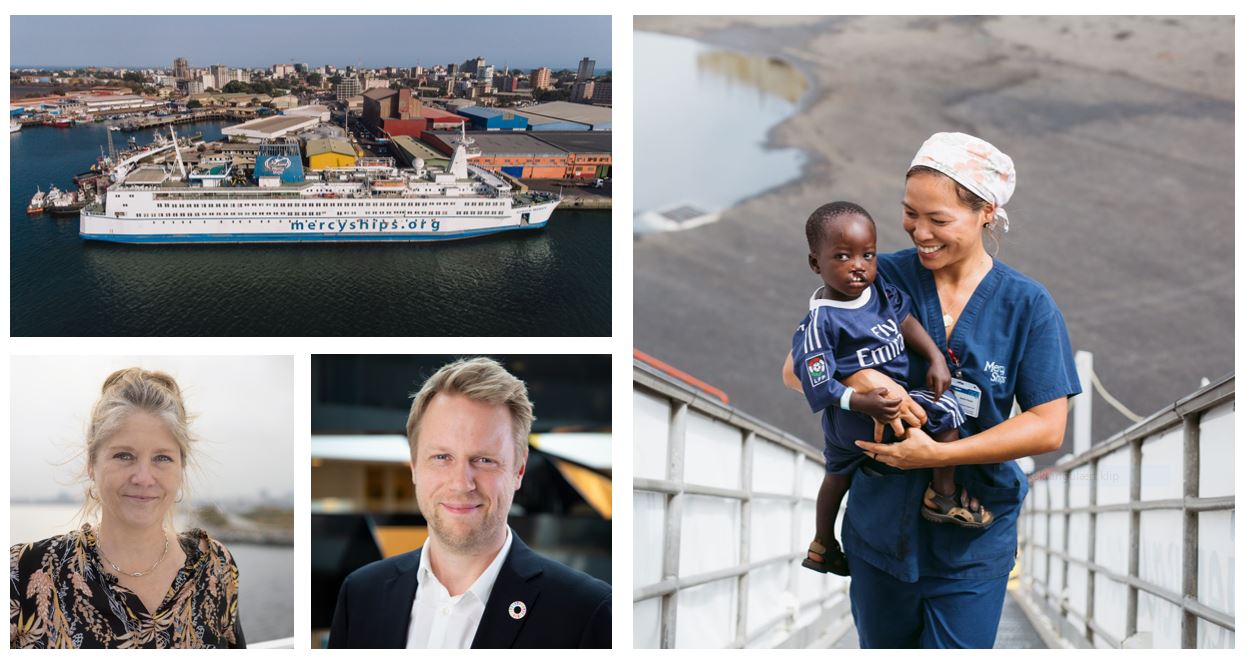 Hope and healing. These are the key words for the international humanitarian organisation Mercy Ships, whose work Danish Maritime hence forward will be supporting. Mercy Ships operates non-governmental hospital ships, which for the past 40 years have been moored in more than 55 developing countries in Africa and offered free treatment to the poor who otherwise could not afford to see a doctor or dentist.
On board the ship, both children and adults are treated for ailments and diseases that are life-threatening or that cause serious inconvenience and affect the quality of life and the ability to cope in society. The organisation is run by donations and volunteers, and Christian Sophus Ehlers, director of Mercy Ships Denmark, is pleased to welcome Danish Maritime as a new partner:
"We are very grateful for the support for our work that the collaboration with Danish Maritime expresses. It is volunteer doctors, surgeons, navigators, engineers, kitchen assistants and many other professional groups who man our hospital ships and even pay for their stay on board. The collaboration with Danish Maritime is an important recognition of their great efforts to alleviate distress and bring hope and healing to the poorest part of the world, "says Christian Sophus Ehlers.
In addition to the work on board the ship, which is fully equipped as a hospital, a great deal of effort is being made to teach local health personnel so that they learn to handle several things themselves. Also when the ship has sailed on to a new destination.
Several of Danish Maritime's members already support Mercy Ships. MAN Energy Solutions, C.C. Jensen, OSK Group and DESMI all contribute to the work through partnerships and by sponsoring products for the ships, and before long, Mercy Ships will be able to turn up the activities with the purchase of a brand new and state-of-the-art ship.
But the work on the oldest hospital ship, Africa Mercy, also continues, and from there a thread goes directly back to Denmark. The ship is the former Great Belt ferry Dronning Ingrid, which was built at a Danish shipyard, and which years later got a whole new life as a hospital ship.
"The partnership between Danish Maritime and Mercy Ships Denmark is a fantastic opportunity to tell that story, and we as a humanitarian organisation obviously need to create visibility about our work on the hospital ships. The support from Danish Maritime and our other partners means that we can offer free surgery for even more poor patients. By giving life-changing operations to poor people, they get the opportunity to become self-sufficient and, in general, have a dignified life", says Christian Sophus Ehlers.
Mercy Ships is therefore very interested in entering supportive partnerships, and at Danish Maritime, CEO Jenny Braat has no doubt that this particular partnership makes sense:
"We talk a lot about the UN's world goals and about how we as an industry want to help make a difference in many different ways. The work that Mercy Ships delivers makes a huge difference and I am delighted that they now have the opportunity to help even more. At Danish Maritime, we would very much like to support this, and the story of how a Danish ferry ended up as a floating hospital is just a nice, extra detail. As a maritime industry, we can help in several different ways, and if you dive into some of all the stories that hide behind the work and look at what a huge difference an operation can make, you will be completely warm-hearted. We are most happy about the new partnership, "says Jenny Braat.
Further info about Mercy Ships
Læs mere om