Indonesian parliamentarians study marine engine technology and discuss vocational training during study visit to Denmark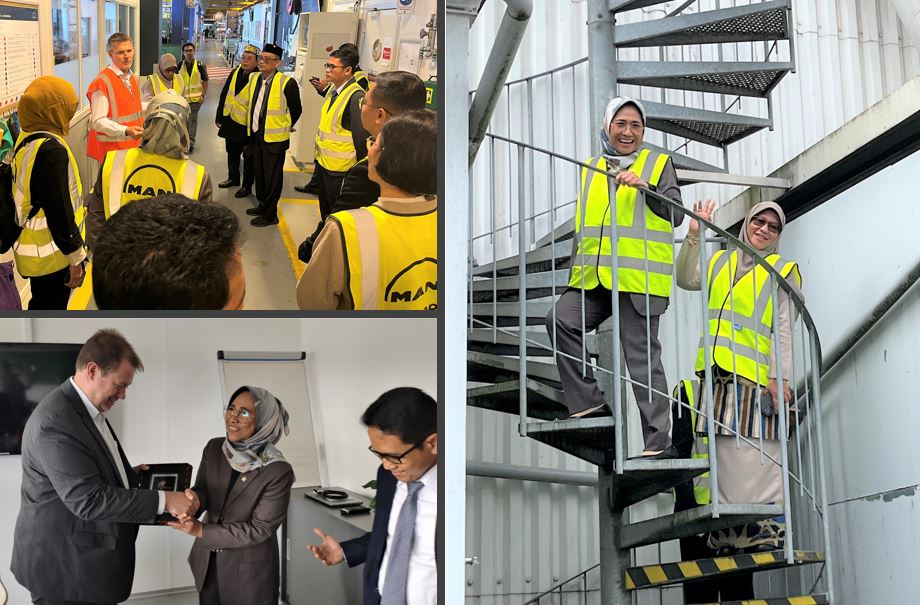 Denmark and Indonesia are both proud maritime and seafaring nations, consisting of numerous islands that are connected by ferries and ships and as such have a lot in common. This was repeatedly underlined on 14 June 2022, when the Committee for Education, Culture, Sports and Arts of Indonesia´s House of Representatives paid a visit to MAN Energy Solutions in Copenhagen, as part of the Committee´s formal visit to Denmark.
The Indonesian delegation, consisting of 14 members of parliament, representatives of the Indonesian Ministry of Education, Culture, Research, and Technology, as well as from Indonesia's Embassy to Denmark, arrived primarily to study the interaction and dialogue between industry and the vocational educational system in Denmark, but also to learn about MAN Energy Solutions, which is one of the World´s leading marine engine designers and whose engines can be found in most ocean-going ships
Claus Stab, Head of Factory at MAN Energy Solutions, gave a brief overview of the company´s range of marine engines, including the newest types operating on sustainable fuels such as methanol and ammonia.
He then informed about their use of apprentices and how the company trains them, underlining that "for the company, onboarding apprentices is an investment, as it can take a long while before the apprentice becomes profitable. But it is a good investment".
Chief Development Officer Rasmus Frimodt of vocational school NEXT Education Copenhagen mentioned that "ongoing dialogue between industry and vocational schools is essential to obtain the right qualifications and right number of skilled workers" and provided examples of how such dialogue is carried out in practice – and how the industry has a say regarding the annual intake of students, but also contributes to the training of new skilled labour.
Those companies which are not able to hire sufficient apprentices, based on the size of their work force, are subject to a fee, which help cover the expenses of those companies that accept apprentices. This, Mr Frimodt says "helps to ensure a fair burden sharing among companies while also ensuring that enough skilled labour is trained".
During a guided visit to the production facilities, the delegation saw how apprentices are delegated the responsibility of using state-of-the art robotic production machines, to contribute to the production of MAN Energy Solutions while at the same time learning about modern production technology.
First Deputy Chairman of the Committee, Dr. Hetifah Sjaifudian stated that she was "much impressed to see how Danish apprentices work independently and with self-confidence at MAN Energy Solutions" and noted the visit had been both inspiring and insightful, with certain elements that could be helpful in an Indonesian context. Dr. Sjaifudian suggests exploring the opportunities for vocational student exchange between Indonesia and Denmark in the maritime sector and notes that finding the balance between the demand for skilled labour in the industry and the supply of young people from the vocational schools is a joint challenge for both Indonesia and Denmark.
The head of the Indonesian Agency for Education Standards, Curriculum, and Assessment, Dr. Anindito Aditomo, said that the visit "sparked many insights that are relevant for reforming vocational education and training (VET) governance in Indonesia". He added that MAN Energy Solutions provides a great example of how companies and the private sector can contribute to vocational education.
The visit was prepared in collaboration between the Embassy of the Republic of Indonesia and industry association Danish Maritime, which will continue their dialogue about exploring opportunities for increased maritime trade between the two nations, whose governments already have dialogue regarding maritime affairs.
Læs mere om