Danfoss IXA
Danfoss IXA develops intelligent sensors and systems ideally suited for the constantly increasing focus on the environment and performance optimization in the maritime industry.
The Danfoss IXA product portfolio consists of two product lines that contribute to optimizing processes on board; the Dynamic Ventilation System (DVS) and the Marine Emission Sensor (MES 1001). The products are based on advanced and patented technology, and build extremely robust to withstand harsh maritime environments.
MES 1001 enables precise and continuous measurement of the environmentally harmful gasses NOx, SO2 and NH3, directly in the exhaust pipe, which ensures fast and accurate measurement. This is vital in meeting environmental legislations, and it also enables optimum use of Selective Catalytic Reduction (SCR), Exhaust Gas Treatment System (EGTS) Scrubber. These measurements consequently provide valuable input for documentation and performance optimization, and overall enable- and contribute to greater transparency of emissions in the industry.
With this, Danfoss IXA leads the way into a greener and more sustainable future within the maritime industry.
Danfoss IXA is part of the Danfoss Group.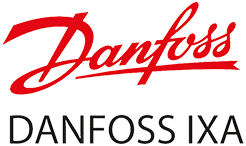 Danfoss IXA A/S
Marsvej 5, 6000 Kolding
Managing Director Claus Vogel
Phone: +45 74 88 85 00
E-mail: ixa@danfoss.com
Web: www.danfoss.com/ixa