FLEX-FEB
FLEX-FEB ApS is a startup company established at the beginning of 2020 to develop, design and build the world's first flexible environmental barge.
The barge is multifunctional and can be used both for collecting oil spills at sea and for collecting other surface material such as seaweed / eelgrass and plastic waste.
The barge is unique as the draft does not increase when loaded. This makes the barge particularly useful in shallow waters, where there are major challenges both with seaweed and combating oil pollution.
The barge can be used as functional equipment for different types of ships and vessels, so there is no need to use expensive special ships. The barge is conceptually supported by a developed emergency preparedness model – The functional emergency preparedness model.
Under the MUDP program, the Danish Environmental Protection Agency has granted funds for the project, to be launched on 1 January 2021. The funding includes the development, design and construction of a small, fully functional test platform.
The project is carried out in Cooperation with Søby Shipyard A/S.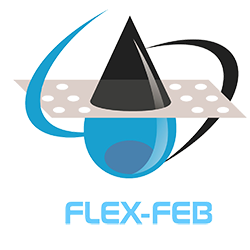 FLEX-FEB ApS
Symfonivej 18 – 2730 Herlev
CEO Jens Walther
Phone: +45 61 30 33 43
E-mail: info@flex-feb.com
Web: www.flex-feb.com