Granly Diesel
Granly Diesel A/S – Part of the Granly Group
Granly Diesel A/S is a sales and service company. We are Distributor in Denmark, in Greenland and the Faroe Islands of Cummins and Kubota diesel engines that meet all applicable emission requirements and are supplied in sizes from 10 HP to 4,000 HP.
Granly Diesel A/S also sells Kawasaki, Mercury, Beta Marine, Fischer Panda, Stamford AvK and HamiltonJet and is service partner for Servo Gear.
Diesel engines for every need
Granly Diesel A/S does motors for Marine, Agriculture, Fishing and much more. We can solve tasks within many different types of professions both on and off shore – eg. fishing, marine, construction, agriculture, hospitals, etc. Our experienced and reliable staff will do their utmost to help you too.
At Granly Diesel A/S we want to be our customers' first choice. The customer's wishes and needs are a top priority at Granly Diesel A/S. It is important for us to establish a close cooperation with our customers, which is based on mutual trust and personal relationships.
Flexibility, quality and short delivery time are key words!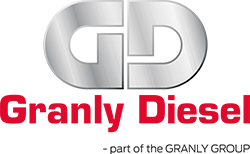 Granly Diesel A/S
Fiskerihavnsgade 34 · 6700 Esbjerg
Hovedvejen 233 B, Osted · 4320 Lejre
Chief operating officer Preben Vogt
Tlf.: +45 46 42 35 50
E-mail: pv@granlydiesel.com
Web: www.granlydiesel.com