Jobi Shipyard
JOBI Værft performs all types of tasks within newbuilding, conversion and repair of vessels.
We are currently aprox. 50 professionally trained employees, who over the years have built up a broad expertise in all types of materials such as wood, metal, glass and carbon fiber as well as hydraulics. Our employees are all trained in ship and boat construction, and our blacksmiths have required welding certificates. We are happy to be responsible for the entire turnkey contract for your tasks, where we work together to find the best solutions and we are responsible for the contact to any necessary subcontractors that we know are specialists in their field and deliver a piece of well-completed work.
We regularly maintain the local fishing boats. In collaboration with the skipper, we help to develop the ship as a workplace and thereby improve conditions at sea. Several fishing boats have had a bilge keel fitted, the rear end changed or extended. If you have an idea, we have the solution.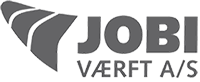 Jobi Værft A/S
Værftskaj 2, 9970 Strandby
CEO Jesper Faurholt Jensen
Phone: +45 96 44 44 96
E-mail: info@jobigroup.com
Web: www.jobigroup.com