Johnson Controls Denmark
Johnson Controls Marine is your reliable partner with vast ex­perience and expert knowledge of HVAC/R solutions (Heating, Ventilation, Air conditioning and Refrigeration) and automation in Merchant & Offshore applications.
The competent global Merchant & Offshore team and a global line of products will be your guaran­tee as a customer for the highest product, design and engineering quality, system performance and reliability.
The technical knowledge and experience of the Merchant & Offshore team ensures full compliance with the owner's specific requirements and strict conformity with specifications, rules and classification requirements.Furthermore, high product quality as well as personal comfort are attributes for systems delivered by Johnson Controls Marine.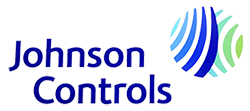 Johnson Controls Denmark ApS
Building Efficiency Christian X's Vej 201, 8270 Højbjerg
Director Global Marine Services: Casper Hoffmeyer
Phone: +45 87 36 70 00
Web: www.johnsoncontrols.dk